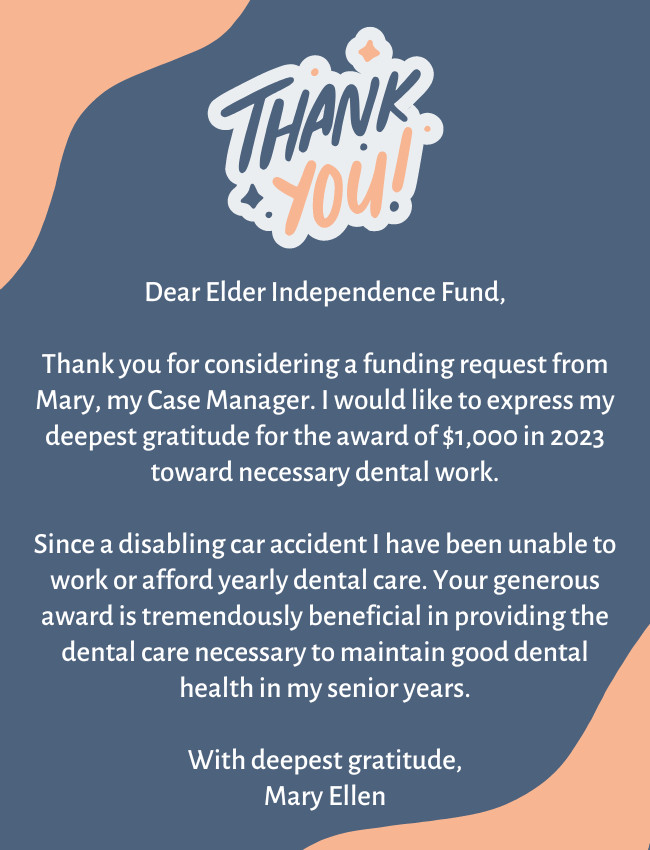 Mystic Valley Elder Services recently received this touching thank-you card from one of our consumers. The message above was taken directly from the consumer's card, but it isn't truly for us. It's for you, the people who support our Elder Independence Fund.
Emergency dental care is just one of the many ways the Elder Independence Fund has assisted older adults in times of need. Thanks to donations from people like you, MVES is able to provide solutions to a variety of problems – such as installing a wheelchair ramp or purchasing a microwave to heat up Meals on Wheels. These items are essential to the consumer's ability to live at home independently, but the expenses aren't covered by all government programs.
MVES' Elder Independence Fund relies on the generosity of donors to "fill the gap" in coverage. These donations have the power to improve lives right here in our community. Will you join us in supporting your neighbors? Visit
www.mves.org/donate
to make your gift or go to
www.mves.org/support-our-mission
to learn more.