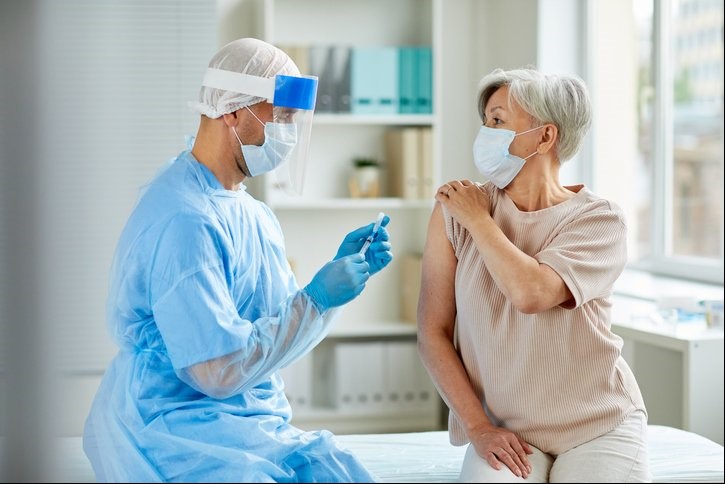 Mystic Valley Elder Services (MVES) has approved more than 100 rides to consumers and residents of its 11 communities since beginning to provide free vaccine transportation services to adults 60 years and older to COVID-19 vaccine sites. MVES has also been assisting and providing resources to individuals seeking information about the vaccine, vaccine appointments and finding local sites.
For the vaccine transportation program, there are three eligibility guidelines to get approved for your two roundtrips: be 60 years of age or older; don't have other means to get to a vaccination site; or don't have access to the vaccines at the building complex where you live. Those age 60+ can call us to get authorization for their rides before they get a vaccine appointment. Make sure to call us in plenty of time so you can plan the most convenient travel time for yourself. When taking your trips, masks will be required. If you live in Chelsea, Everett, Malden, Medford, Melrose, North Reading, Reading, Revere, Stoneham, Wakefield or Winthrop, give us a call!
Many individuals who have used the vaccine transportation program have stated they are very appreciative of the program as they would have no other means to get to the sites. Some have commented it was very easy to book the ride and are thankful for the peace of mind knowing they can safely get to and from a vaccination site.
"I can't say enough wonderful things about Malden Taxi who took me to my appointments," says Joyce, a resident who took advantage of the free rides. "I had the same driver for both of my round trips and he was totally courteous, kind and pleasant. Also, the woman who handles the taxi appointments is an absolute gem. In this crazy world, you have all made this a great experience."
You can call us at any time during business hours to get your trips approved so when the time comes to get vaccinated, you will be all set to call the transportation provider for your ride to and from a site near your home. Visit the State's website here or call 211 for the latest information on the COVID-19 vaccine and what phase you fall under according to your age and health conditions
For more information about the transportation vaccination program and to register for your rides, call MVES at (781) 324-7705. Again, it is encouraged to call us as soon as possible to book your rides. Feel free to also visit MVES's COVID-19 webpage and Resource Guide here.
Vaccine Resources