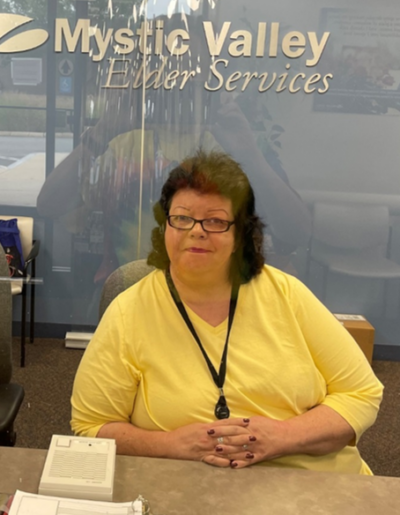 Our most recent Spotlight Award recipient is a familiar face to anyone who walks through the doors of Mystic Valley Elder Services – Kim Laughton, one of our receptionists.
"This person is who you want at your front door and we are so lucky to have her at our agency. She greets everyone with kindness and compassion. She consistently goes above and beyond to provide high-quality customer service and though she is on the telephone, she smiles while she is doing so," said the MVES Information & Referral team, which nominated Kim.
Kim recently celebrated her five-year anniversary with MVES. In addition to her welcoming manner, Kim is extremely knowledgeable about our organization, enabling her to help visitors and callers as well as staff members.
"When she has a question, she knows how to efficiently get her questions answered so that she can quickly move consumers throughout the agency. She is friendly, kind, and knowledgeable," said her nominators.
The Spotlight Award is given to a Mystic Valley Elder Services employee who has gone above and beyond typical job expectations, provided outstanding customer service, or performed distinctive achievements that impact their department and agency.
Congratulations, Kim!